Name: Sarah Park
Coaching certificate: Level 2
Classification: 1.0
Mobility aids: wheelchair user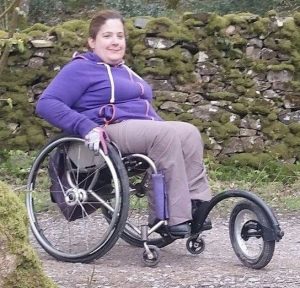 How I joined: I went along to a sporting event in Bedford to encourage Women into sport. I had played wheelchair basketball a little when I was younger and always enjoyed it, but due to lack of provision lost interest at this point. It was great to be back playing, remembering why I used to like playing and so I decided that I would go over to try a session in Northampton. I am so glad I made the effort that day as never looked back.
Why I play: Its just a great fast paced sport that allows people to play equally whether they have a disability or not. It has helped to maintain a good level of fitness and I have made some wonderful friends.
Favourite Drill: Bulldog: This is a great starting drill for all levels and can be adapted to ensure everyone is gaining from it. The basic version we do is tag, we then move on to blocking. It is fast and fun and allows all levels to play together, whilst still developing key skills related to basketball.
Why I became a coach: The main reason I became a coach was to give back to the club some of what I had gained as a player. We are now in a fortunate position with a number of coaches allowing for us all to be involved in the continued development of the club.